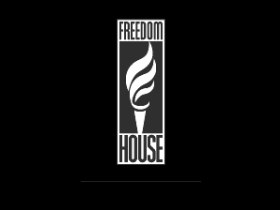 The American research organization Freedom House has released a new survey on internet freedom around the world, including a detailed report on the state of affairs in Russia. Out of 37 countries, with the most free in 1st place and least free in last, Russia ranked in 22nd place, below Venezuela and above Egypt and Zimbabwe. By all three measures used in the report – obstacles to access, limits on content, and violations of user rights – Russia's level of internet freedom has deteriorated in the past two years. Overall, the country's internet is listed as "partly free," as opposed to "free" or "not free."
While access to the internet itself remains largely unhindered in Russia, many bloggers have come under attack – both online and in person.
In the last two years there have been several cases of technical blocking and numerous cases of content removal. The authorities have also increasingly engaged in harassment of bloggers. At least 25 cases of blogger harassment, including 11 arrests, were registered between January 2009 and May 2010, compared with seven in 2006–08. In addition, dozens of blogs have reportedly been attacked in recent years by a hacker team called the Hell Brigade.
The report did point out areas where access to the internet remains a pressing issue:
The number of internet users jumped from 1.5 million in 1999 to 46.5 million in 2010, and grew by more than 13 million in the last two years, though this still leaves Russia's penetration rate at 33 percent, lower than the rates in Central European countries. The level of infrastructure differs significantly from place to place, and gaps are evident between urban and rural areas as well as between different types of cities. The worst access conditions can be found in the North Caucasus and the industrial towns of Siberia and the Far East.
Corruption within the federal government also plays a part in what companies control internet access across the country:
Five access providers—Comstar, Vimpelcom, ER-Telecom, AKADO, and the state-owned SvyazInvest—controlled more than 67 percent of the broadband market as of February 2010. Regional branches of SvyazInvest account for 36 percent of subscribers, up from 27.8 percent in 2008. As at the federal level, regional dominance usually depends on political connections and the tacit approval of regional authorities. Although this situation is not the direct result of legal or economic obstacles, it nonetheless reflects an element of corruption that is widespread in the telecommunications sector and other parts of the Russian economy.
Greater concern, however, was focused on blocked online content, particularly opposition-oriented websites.
Although attempts to establish a comprehensive, centralized filtering system have been abandoned, several recent cases of blocking have been reported. In December 2009, a number of ISPs blocked access to the radical Islamist website Kavkaz Center. At almost the same time, the wireless provider Yota blocked several opposition sites. The practice of exerting pressure on service providers and content producers by telephone has become increasingly common. Police and representatives of the prosecutor's office call the owners and shareholders of websites, and anyone else in a position to remove unwanted material and ensure that the problem does not come up again. Such pressure encourages self-censorship, and most providers do not wait for court orders to remove targeted materials.

…

Content is often removed on the grounds that it violates Russia's laws against "extremism." Providers are punished for hosting materials that are proscribed in a list on the website of the Ministry of Justice. The list is updated on a monthly basis and included 748 items as of January 2011. The procedure for identifying extremist materials is nontransparent, leaving ample room for politically motivated content removal. There have been at least three cases of site closures, two of them temporary, on the grounds that the affected sites hosted extremist materials. In February 2010, the major opposition portal Grani.ru was checked for extremism, but the authorities apparently found nothing incriminating.
Among the most disturbing accounts in the report were cases of criminal suits and physical attacks against individual bloggers.
Since January 2009, police and the prosecutor's office have launched at least 25 criminal cases against bloggers and forum commentators. While some cases were against individuals who posted clearly extremist content, others appear to be more politically motivated. The most severe and widely known sentence was that of Irek Murtazin, a Tatarstan blogger and journalist who received almost two years in prison in November 2009 for defamation.

…

While traditional journalists and activists have faced a series of murders and severe beatings in recent years, physical attacks on Russian bloggers and online activists have so far been comparatively limited. However, one recent event drew significant attention. In November 2010, Oleg Kashin, a reporter for the newspaper Kommersant who was also well known as a blogger, was severely beaten near his home in Moscow. His coverage of protests and political youth movements had prompted vocal responses from pro-Kremlin groups in the past, but it was not known exactly who was responsible for the attack.
Read the report in its entirety by clicking here.