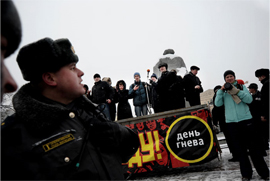 A Russian journalist detained at an opposition protest must spend four days in police detention and has gone on hunger strike in protest, Kasparov.ru reports.
Elkhan Mirzoev was arrested during a Day of Anger protest on April 10 in Moscow. Police say the journalist threw himself on them repeatedly in an attempt to break through their barrier. In court on Tuesday, witnesses testified that this was untrue, and Mirzoev himself said he is a journalist and was arrested while carrying out his duties.
Mirzoev's lawyers originally attempted to reschedule the proceedings on the basis that the materials in the case had been drawn up in an extremely careless fashion. However, On April 12, Tverskoy Regional Court Justice Borovkova dismissed the motion, saying that "consideration of the case has already begun."
In the end, the judge sentenced him to four days of administrative arrest.
Mirzoev maintains his innocence and therefore plans to continue a hunger strike begun on April 11 in a sign of protest against what he says was his illegal detention.
The journalist was among ten people detained at the Day of Anger protest. They group was charged with disobeying police orders.
Police officers reportedly used force to remove public defender Denis Yudin from the station where the group was being held. Yudin had intended to provide the detainees with legal counsel.
The next day, the Tverskoy Court returned materials against the detainees that they had received from the police on the basis that they had been incorrectly prepared. The proceedings were then rescheduled.