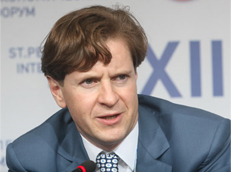 After Yury Luzhkov was fired from his longtime post as mayor of Moscow last October, reports began to surface that federal investigators were looking into offenses by him and his billionaire wife, Yelena Baturina, that could possibly lead to criminal charges. On February 17, police raided the offices of Baturina's construction firm, Inteko, confirming their suspicions that she had embezzled $444 million from the Bank of Moscow to pay off part of the company's debts.
Luzhkov and Baturina have recently been noted skipping around Europe in a probable attempt to flee the country, and now it appears that Bank of Moscow President Andrei Borodin may be joining them.
Bank of Moscow President Andrei Borodin has fled Russia after the police were ready to charge him with illegally granting a 13 billion ruble ($444 million) loan to Elena Baturina, wife of former Moscow Mayor Yury Luzhkov, sources said on Tuesday.

"Last week the police asked the court to relieve Borodin of his duties after which he was to be charged and a restraint on travel imposed," a police source said.

A Moscow court rejected the request and Borodin then left Russia, the source said.

Banking sources told RIA Novosti that Borodin, whose duties are being temporarily performed by Bank of Moscow Vice President Sergei Yermolayev, was in London, where former Moscow Mayor Yury Luzhkov and his wife Yelena Baturina are thought to be resident. The Bank of Moscow said Borodin was on sick leave.

Investigators raided Premiere Estate, a property company owned by Baturina, in February as part of a probe into misuse of Moscow city funds in connection with the 13 billion ruble loan to her. Police also raided the Bank of Moscow and the homes of some of its directors.

Police think some of the bank's staff helped embezzle money which ended up in Baturina's account. The loan granted by Bank of Moscow was allegedly used in a complex series of deals to buy land in Moscow owned by Inteco, Baturina's construction and real estate firm, at an excessive price, in order to slash the firm's debts.

Both Inteco and Baturina have consistently denied any impropriety in connection to the deals.

Meanwhile, a fight for control over Bank of Moscow has been going on since February, when Russia's second largest bank, state-controlled VTB announced a gradual acquisition of Bank of Moscow, the capital's investment vehicle. The Moscow government sold its stake in the bank to VTB for 103 billion rubles after President Dmitry Medvedev fired Luzhkov last fall.

VTB now owns a 46.48% share in Bank of Moscow and plans to gain a 100% control. Borodin and his business partner Lev Alaluyev hold a 20.3% stake in Bank of Moscow.

Borodin gained a court injunction blocking the acquisition of Goldman Sachs' 3.88% stake in the bank, which would have increased VTB's share in Bank of Moscow to a controlling interest.