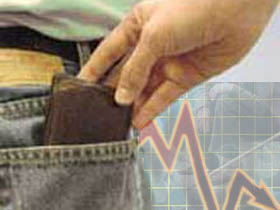 Russia's Ministry of Economic Development and Trade (MEDT) has raised its inflation forecast for 2008, and has admitted that the Cabinet of Ministers will be unable to control rising prices across the country. As the Novy Region news agency reports, the rate of predicted inflation has risen from 8.5 to 9.5 percent.
Gennady Kuranov, the director of the agency's macroeconomic forecasting department, explained that the higher rate was connected directly with rising prices on foodstuffs, and especially grain. According to Kuranov, the expected inflation for 2009-2011 remains unchanged, ranging from 5 to 7 percent.
Other independent experts have a somewhat gloomier outlook, the Gazeta.ru online newspaper writes. Maria Kataranova, of the Economic Expert Group, predicts that consumer prices will rise by 10 percent in 2008. Igor Shibanov, the director of the Russian Development Bank's conversion operations, expected inflation to reach 13 percent. In the opinion of Agvan Mikaelyan, the general director of the FinEkspertiza (Financial Expertise) LLC, the rate could reach 15 percent.
One deputy from the Russian State Duma believes that the new prognosis is self evident. Raisa Karmazina, who serves on the budget committee and hails from the Krasnoyarsk Krai, spoke with the Mayak radio station:
"The Government of the Russian Federation is currently working out a program of anti-inflationary measures, but maintaining it within limits in this year will not work for many reasons, including external ones. These include a rise in world foodstuffs prices, and a reformation of the energy system, which needs a transition period of three-four years, and of course, the world financial crisis, which influences us to a lesser degree than other countries, but still puts pressure on the economy."