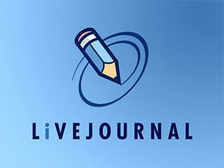 Russia's Central Electoral Commission (TsIK) is proposing a ban on "political agitation" posted on blogs on the eve of national elections – a ban already imposed on traditional forms of mass media, Gazeta.ru reports.
At a parliamentary hearing dedicated to legislation regulating the internet, TsIK member Maya Grishina introduced an initiative to clarify electoral legislation to fight "unlawful agitation" on social media sites such as LiveJournal, Facebook, and Twitter. The commission is asking for a separate law to govern the rules for posting "political agitation" in the blogosphere and set resources in place that would allow such agitation to be dealt with.
"Our task is to get rid of unjustified constraints and create conditions to persecute violations," Grishina explained.
She said the most dangerous platform was LiveJournal, where the majority of comments and discussions can be freely viewed by the general public. Moreover, Grishina said, it is precisely on LiveJournal that agitation is posted on the day before elections, despite being banned by law, or that exit poll data is displayed before the last polls close.
According to Gazeta.ru, Robert Shlegel, a member of the State Duma committee on network and information politics known for his work to restrict media freedoms, did not rush to support Grishina's idea but did say it would be discussed in the next scheduled Duma round table on mass media and internet regulation in December 2011.
Other members of the political community were less forgiving.
"This idea is stupid and impossible to implement," said Solidarity member Ilya Yashin. "It's impossible to force American websites (for example, Facebook) to follow Russian laws, and the internet in general is a global space."
Head of the legal branch of the Communist Party, Vadim Solovyov, said such a law could lead to abuse. "I don't see anything good in this proposal – people could be accused of illegal agitation for any sort of rubbish on a blog," he said.
Regional elections took place throughout Russia on March 13, 2011. Upcoming elections for State Duma and the presidency will be held in October 2011 and March 2012, respectively.