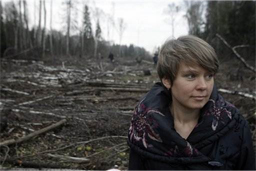 Police have begun to confiscate documents from the offices of Aesop LLC, an engineering firm owned by environmental activist Yevgeniya Chirikova and her husband, Kasparov.ru reports.
Chirikova told the website that police came to her husband's office and began taking documents without explaining what unit they belong to or on what basis they were conducting the search. A lawyer from the association Agora was sent to the firm to look into the matter.
"This is one hundred percent connected with our civil activities," said Chirikova. "Our company has been around since 1992 and there were never any problems before."
She explained that Aesop is an engineering company that deals with high-tech business and would unlikely be of any interest to law enforcement agencies. However, after Chirikova became an activist and founded the Movement in Defense of the Khimki Forest, government authorities began to put pressure on the company from all sides. One example of this was when a bank denied Aesop credit after unknown persons pressured the bank.
Chirikova has previously reported that unknown persons sent letters supposedly from law enforcement officials to clients of the firm asking them not to use Aesop's services. In addition, Russia's Child Protection Service has threatened to take away her children, after supposedly receiving an anonymous tip that she was mistreating them – a known tactic used against activists and oppositionists in Russia.