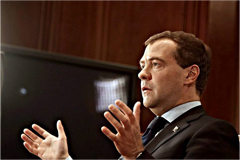 President Dmitri Medvedev is admitting that terrorism in Russia is a problem that isn't going anywhere anytime soon, RIA Novosti reports.
"We need to say honestly that these threats are something that will continue to occur in our country; they will not disappear in a year," the president said at a session with Federal Security Service officials a day after a suspected suicide bomber killed 35 people and wounded more than 100 at Moscow's Domodedovo airport.
Taking the kind of hard-line stance that characterized his predecessor, Prime Minister Vladimir Putin, Medvedev said those responsible for the bombing should be killed without ceremony.
"Another challenge – and a very cruel one – has been cast at our society, at our government. As is customary in such situations, there is no need to stand on ceremony with those who we are going to be fighting against," he said. "They should be destroyed on sight."
The president went on to warn FSB officials that they need to carry out "maximally active work on preventative measures for terrorism and extremism."
"Especially with young people," said Medvedev, "who often fall into open criminal networks because of a lack of life experience or from winding up in a difficult situation."
Careful work also needed to be done to prevent terrorist attacks at a series of upcoming high-profile events in Russia, said Medvedev: the Asia-Pacific Economic Cooperation summit in Vladivostok in 2012 and the Winter Olympics in Sochi in 2014, among others
"There are elections ahead of us, this is also a very significant event in the life of our country," he added.
According to former First Deputy Prime Minister Boris Nemtsov, now a leading opposition figure, the responsibility for the airport bombing does not lie mainly with the security services:
Many people are blaming the Russian security services for what happened, since they slipped up, left their work unfinished, and overlooked it. Others speak of the imperfections of the airport security system. All of this, without a doubt, is true. But the actual causes [of the bombing – ed.] are entirely different. Over the course of the past 11 years, the number of terrorist attacks in Russia has risen by leaps and bounds. From 2000 to 2009, the number of terrorist attacks has risen more than six times and reached an atmospheric number – more than 750 terrorist attacks in a year (in 2000 there were 130 – see 'Putin. Results. 10 Years.')

What we have here is the total collapse of anti-terrorism operations in the country. One hundred percent of the responsibility for this collapse lies with V. Putin. It was he who came to power in 2000 under the slogan of "flush the terrorists down the toilet." It was he who used the war in the Caucasus and the apartment bombings in Moscow to the maximum extent to raise his personal political rating. It was he who actively used terrorist attacks to strengthen one-man government at the beginning of his career. After the terrorist attack in Dubrovka in 2002 he introduced total censorship over television and after the terrorist attack in Beslan he did away with gubernatorial elections, all the while strengthening his own, as later became clear, thoroughly corrupt vertical. At that time, we were instilled with the idea that we were obligated to sacrifice freedom and democracy for the sake of safety. We sacrificed. Now there are many more terrorist attacks and much less safety.