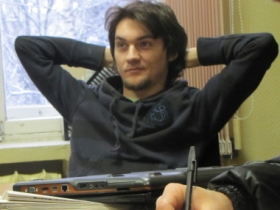 Update 12/24/10: The prosecutor general of Komi has annulled the criminal charges against Safronov, on the basis that they had been filed prematurely and were based on incomplete information. The agency did not, however, rule out that they could be refiled.
Meanwhile, Safronov says he is more concerned about getting back his confiscated computers, which he can't work normally without.
Criminal charges have been filed against a Russian blogger from the city of Komi for insulting Prime Minister Vladimir Putin on his LiveJournal page, Kasparov.ru reports.
On December 21, Pavel Safronov reported that police had raided the editorial offices of Krasnoye Znamya, a regional newspaper where he works as marketing manager for the publication's website. Writing on his blog, Safronov said police confiscated two work computers and took him to a police station for interrogation in regards to the charges.
The blogger is being charged under article 319 of the Russian criminal code, which prohibits "the public insult of a government official in the performance of one's duties or in connection with their performance." The offense is punishable by a minimum of a 40 thousand ruble fine (about $1330) or as much as one year of corrective labor.
Safronov is appealing the charges on the basis that they constitute illegal criminal persecution. Everything that has happened, he said, is part of a publicity stunt against him by unknown political forces. Indeed, the remark in question – he called the prime minister a derogatory term for homosexuals – was posted back on September 28, but no charges were filed until December 20.
For his part, Safronov insists that the remark was not actually insulting.
"I don't consider the word 'p*****s' to be an insult, and I didn't mean to insult Putin," he explained to the news website VNKomi.ru. "Moreover, nobody told me that someone had filed this criminal suit."
According to VNKomi.ru, an activist from the ultranationalist Liberal Democratic Party of Russia named Veronika Gorbacheva filed a complaint with the prime minister's regional outpost in Komi on November 11. She had previously sued Safronov on the basis that he had insulted her but lost the case in court.
The free speech rights of bloggers in Russia have come under repeated threat in recent years. Among numerous notable cases, young blogger Savva Terentiev was sentenced to a year in prison for comments left on a LiveJournal blog in 2008. Another blogger was arrested for posting lewd descriptions of Vladimir Putin.