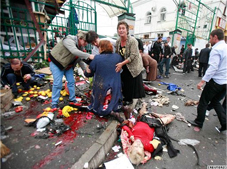 Terrorist attacks on Russian territory have doubled over the past year, RIA Novosti reports.
Speaking at a meeting dedicated to the work of law enforcement agencies in the North Caucasian Federal District, Prosecutor General Deputy Ivan Sydoruk said that the number of attacks in the region was up 100 percent in 2010.
The rise comes despite 30 counter-terrorism operations carried out in the North Caucasus in 2010, in which more than 300 militants, including 17 prominent leaders, were neutralized. In addition, police had confiscated 1,665 firearms, 91846 rounds of ammunition, more than 1200 kilograms of explosives and more than 110 explosive devices from weapons trafficking circles.
The admission by the prosecutor general's office follows conflicting statements by Russian President Dmitri Medvedev and leaders in Chechnya and Ingushetia over the success of counter-terrorism operations in the North Caucasus.
During a November 19 meeting on comprehensive measures to ensure stability in the volatile region, President Medvedev said that information presented to him indicating an improvement in the criminal situation was "nonsense." "I have no faith in these statistics, they're often nonsense," said the president. He also said that the operative situation in the Caucasus "has practically not improved."
In response, Ingush President Yunus-Bek Yevkurov and Chechen President Ramzan Kadyrov issued a joint statement saying that President Medvedev was incorrect.
"The president said that it was 'nonsense.' But it's clear to us that that's not the case," said Yevkurov. In an interview with Interfax, Kadyrov said he could not rule out the possibility that militants had been eradicated from Chechnya altogether.
In his turn, Russian Internal Minister Rashid Nurgaliyev said last week that the number of terrorist threats in Russia remains high.