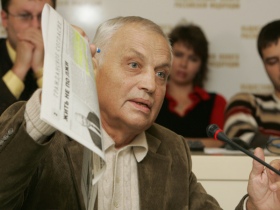 The editor-in-chief of a Moscow suburb's last opposition newspaper has died of cancer, Interfax reports.
Anatoly Yurov, 62, was admitted to a hospital in the city of Khimki on December 1. His friend, Igor Belousov, spoke to Interfax about his death. "Today Anatoly's driver called me and said that he died at six in the morning in one of the sections of the Khimki hospital," he said.
While doctors said the editor died of cancer, Belousov feels that Yurov's death "was, in any case, a result of his opposition of the city administration."
"He was under constant stress. He was beaten several times; during one attack he sustained several knife wounds," said Belousov. "These incidents can't not be connected with Anatoly's strict position, which was periodically critical of the head of Khimki and his subordinates," said Belousov.
The future of Yurov's newspaper, Grazhdanskoe Soglasie, is now unclear. It became Khimki's last opposition newspaper after Khimkinskaya Pravda Editor-in-Chief Mikhail Beketov was attacked and permanently disabled in 2008.
Beketov was actively critical of the Khimki administration. In particular, he voiced strong opposition to the construction of a highway between Moscow and St. Petersburg that would cut through the Khimki Forest. The investigation of his attack remains unsolved.