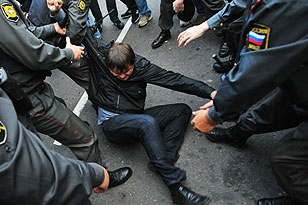 The news website Gazeta.ru has published a letter allegedly penned by Moscow's prosecutor general demanding that city police crack down on oppositionists who routinely plan to hold unsanctioned rallies – even before the rallies begin. According to Prosecutor General Yury Semin, charges should be brought against rally organizers based on their spoken intent to hold such events. Rights advocates say that Semin's proposal is not based on the law.
Late on Monday, a copy of the letter between Moscow's prosecutor general and Moscow Chief of Police Vladimir Kolokoltsev was posted on the blog of Left Front Press Secretary Anastasia Uldatsova, wife of organization leader Sergei Udaltsov. In the letter, dated September 21, 2010, Semin claims that the police have not been taking "sufficient preventative measures directed at stopping" rallies in the Strategy 31 and Day of Anger campaigns, which are almost never sanctioned by city authorities.
The letter was written specifically in reference to rallies held on July 31 (Strategy 31) and August 12 (Day of Anger). The organizers of these events were Lyudmila Alexeyeva, Eduard Limonov, Konstantin Kosyakin, and Sergei Udaltsov. "Not one of the notifications [about the rallies] was sanctioned by the Moscow government," reads the letter. "At the same time, statements by organizers of the unsanctioned rallies of their intent to hold these public events were circulated over the internet and through the Interfax news agency, regardless of the decisions taken by government agencies. The distributed information also contained calls for citizens to take part in them."
In Semin's opinion, this constitutes "a violation of the order of organizing and holding large-scale events," article 20.2 of Russia's federal administrative violations code.
When organizers announce to the press that they plan to hold an unsanctioned event, the police should take it as "information indicating the existence of a case of an administrative violation" and, accordingly, as a basis to press charges, says the prosecutor.
Following the July 31 event, police filed charges only against Kosyakin, who was detained at the rally, the prosecutor notes.
"Not one protocol, including before the beginning of the event, was filed against the rest of the organizers," says Semin.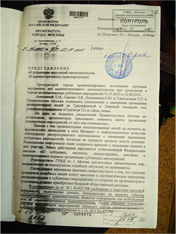 The letter demands that Kolokoltsev rectify the situation, including by punishing police officers guilty of not bringing administrative charges against oppositionists "preventatively."
Gazeta.ru was unable to verify the authenticity of the letter: representatives of the Moscow Prosecutor General were unavailable for comment on Monday, and the head of the press service for the Moscow City Police, Viktor Biryukov, declined to discuss the document, saying he "hadn't seen it."
Expert Nikolai Zboroshenko of the Moscow Helsinki Group says that the position stated in the letter "is not based on law." He told Gazeta.ru that Russia and other countries (Turkey in particular) have repeatedly lost cases in the European Court of Human Rights to ban large rallies.
"The ECHR has repeatedly indicated that people cannot be held liable for one incidence of participating in a rally," Zboroshenko said. "And the police in general do not have the right to prevent rallies from being held."
One of the organizers of Strategy 31, National Bolshevik leader Eduard Limonov, called his fellow oppositionists to calm. "I wouldn't pay much attention to these people (Semin and Kolokoltsev)," he told Gazeta.ru. "They would, of course, like for citizens to sit in bomb shelters when the police come out into the streets, but that's not going to happen. Nobody is ever going to pass that law. It's just two old reactionist careerists writing letters to each other."
According to Solidarity political council member Denis Bilunov, the letter was reminiscent of crackdowns on opposition protesters in the run-up to Russia's 2008 presidential elections. "This is a sure sign of the approach of the pre-election year," he wrote on his blog. "In 2007, as I recall, people were detained in the Moscow metro for 'the intent to take part in an unsanctioned rally'. Afterwards, all of this nonsense somehow seemed to have calmed down a bit, but, as we see, it all still lies ahead."