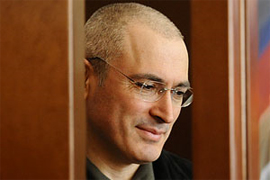 Mikhail Khodorkovsky is prepared to die in prison, if it will transform Russia into a state ruled by law. This final speech by the jailed oil oligarch concluded the second criminal case filed against him by the Russian government. Judge Viktor Danilkin was forced to literally scream over the resulting applause and cries of "freedom!" in support of a man widely considered to be Russia's most prominent political prisoner to announce that the verdict will be handed down on December 15.
As the BBC reports:
Former oil tycoon Mikhail Khodorkovsky has told a court in Moscow that the fate of all Russians rests on the outcome of his trial for embezzlement.

He said no-one believed he would be acquitted of the latest charges, which could extend his jail term until 2017.

The former head of the Yukos oil company has already spent seven years in prison for tax evasion and is scheduled for release next year.

The judge has adjourned the case until he delivers a verdict on 15 December.

Khodorkovsky, 47, and his business partner Platon Lebedev stand accused of stealing more than two billion barrels of oil between 1998 and 2003, charges which the former tycoon has denounced as rubbish.

"It's not me and Platon Lebedev who are now standing trial, it's all the Russian people," he told the court in his final address on Tuesday.

He sympathised with the judge, Viktor Danilkin, and said that millions of people were following the trial, hoping that Russia would become a country of freedom and law.

Khodorkovsky added that he did not wish to die in jail, but added: "If that is what is needed, I have no hesitation."

Prosecutor Valery Lakhtin said on Monday that Khodorkovsky's defence had been built on a lie, based on creating a public perception of a political element to the trial.

Many critics believe the government wants the former tycoon kept behind bars for as long as possible because he challenged former president Vladimir Putin by financing the opposition.

Now prime minister, Mr Putin, is thought likely to run for the presidency again in 2012.

Khodorkovsky has already spent time in prisons in eastern Siberia and in the capital.

But prosecutors have asked the judge for a long prison sentence.

Crowds of Khodorkovsky's friends and relatives as well as observers and journalists have been battling to get inside a small courtroom in central Moscow to hear the closing stages of this latest trial.
Khodorkovsky's closing speech can be read in its entirety in English here and in Russian here.