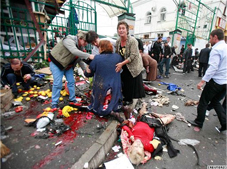 Russian officials admitted for the first time on Monday to being helpless in the face of terrorist attacks in the volatile North Caucasus region, reports the Deutsche Presse-Agentur.
The region has seen 352 attacks by militant Islamist separatists in the first nine months of this year, four times the figure of a year ago, North Caucasus Deputy Attorney General Ivan Sydoruk was quoted as saying.
More than 200 security force personnel have been killed in attacks between January and September, while 400 militants have been killed, he said. The number of civilian victims was not provided.
Authorities have to date always insisted that they had the situation under control. Sydoruk however conceded that the government's recent anti-terrorism operations were not having the desired effect.
In addition to the worst-affected republics of Chechnya, Dagestan and Ingushetia, other regions, such as Kabardino-Balkaria, were also seeing increasing activity by militant separatists.
In the latest violence in the Caucasus, six people were killed and 10 injured in a suicide bombing in Dagestan Saturday, just days after six people were killed and 17 injured in an attack on the Chechen parliament.
Article copyright DPA