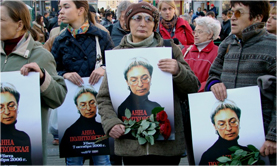 Thursday marks the fourth anniversary of the unsolved murder of crusading journalist Anna Politkovskaya, shot dead in the entrance to her building on Moscow's Lesnaya Street. Famous for her searing criticism of then-President of Russia Vladimir Putin and her exposure of human rights abuses by the Russian authorities in Chechnya, Politkovskaya's murder brought worldwide attention to the staggering number of journalists murdered in her country. The Committee to Protect Journalists says that 52 journalists have been killed in Russia since 1992 – 30 of whose cases remain unsolved – making it the fourth most deadly country in the world for that profession.
In honor of Politkovskaya, memorial events were held on Thursday throughout Russia. At a rally in Moscow, more than 500 people gathered with candles and photographs of the murdered journalist to pay their respects. A variety of journalists, editors, oppositionists, human rights activists, and cultural figures spoke at the event. Among them were rights activists Lev Ponomarev and Sergei Kovalev, journalist Natella Boltyanskaya, Solidarity opposition movement co-leaders Garry Kasparov and Boris Nemtsov, and Editor-in-Chief Dmitri Muratov of Novaya Gazeta, where Politkovskaya used to work.
During his speech at the rally, Novaya Gazeta journalist Oleg Khlebnikov proposed renaming Lesnaya Street in honor of his murdered colleague.
Garry Kasparov told the crowd that the Russian government was doing everything possible to prevent the country from having real journalists. As an example, he cited a scandalous calendar released earlier this week by female journalism students from the prestigious Moscow State University, Politkovskaya's alma mater. The calendar was presented as a birthday gift for Prime Minister Putin, featuring the scantily-clad students coupled with suggestive phrases. The government, Kasparov asserted, has no use for professionals of Politkovskaya's caliber.
"We know the answer to the rhetorical question of who orchestrated Anya's murder," he said.
Literary scholar Marietta Chudakova reminded those gathered of Putin's remark that the journalist's murder brought more harm upon the government than her publications had.
"He lacked the cultural understanding to realize that he'll go down in history with precisely these words," she said.
Memorials were also held in the cities of St. Petersburg, Voronezh, Tomsk, Kurgan, and elsewhere.
Russian state investigators said on Wednesday that they were extending an already long-standing probe into Politkovskaya's death, but her colleagues doubted that the effort was genuine.
"How on earth is it possible to have not found Anna's killers after four years?" alleged Muratov. "Perhaps political will is missing."