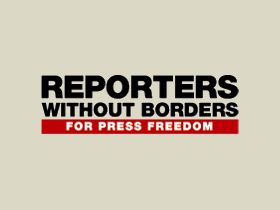 Reporters Without Borders, an international organization dedicated to press-freedom, has condemned violations of journalist rights that took place during Russia's March 2nd presidential election. "The incidents that occurred during the election are indicative of the nervousness that the authorities feel towards independent journalists," the group said in a press-release. The organization received information on numerous instances of rights violations:
In South Sakhalin, an army lieutenant attacked a reporter of the Yuzhno Sakhalinsk "Tvoya Gazeta" (Your Paper). Pavel Abakumov was trying to make sure than no ballot stuffing was taking place.
In Novosibirsk, photographer Yevgeny Ivanov was accused of "resisting the authorities" and "failing to register," when he refused to stop taking photos in a polling station.
In St. Petersburg, a reporter of "Grazhdansky Golos" was detained by militsiya for "being in a polling station without authorization." Her newspaper is run by Golos, an independent electoral monitoring group. Another employee of the same organization was refused access to a polling station in Chelyabinsk. He was also told to keep at least 50 meters away from the entrance. When Governor Pyotr Sumin arrived, the reporter was arrested, and only released when higher authorities stepped in. There was also information that journalists at several polling stations in Moscow and Astrakhan were ordered by security forces to remain more than 50 meters away from the stations.
A reporter of Vpered (Forward), a local daily from Khimki in the Moscow Oblast, was attacked by militsiya officers when he tried to walk out of a polling station with his voting ballot. He had been told by an employee of the electoral commission that it would not be a problem.
Finally, a journalist of the British Daily Telegraph was kept from interviewing voters coming out of a polling station in the Moscow district of Sokol.