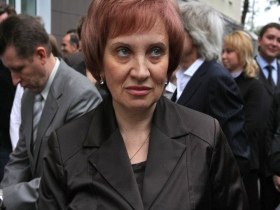 This past year has seen a startling rise in threats against Moscow judges, according to the Russian Agency for Legal and Judicial Information.
Olga Egorova, a representative of the Moscow City Court, told the agency that more than a dozen city judges have requested federal protection so far in 2010 – an unprecedented number for recent decades.
"I've worked in the judicial system for practically 40 years," Egorova said. "In that time, this has simply never happened: this year, 13 judges officially appealed for protection, one was murdered, and that's in Moscow."
Egorova added that this was the first year that she has been personally threatened, including by judges who were fired for taking bribes. "I didn't think that the profession of a judge could be such a dangerous one," she said.
This past April, Moscow City Court Judge Eduard Chuvashov was shot dead in his Moscow apartment building. He had presided over the cases of several ultranationalist groups and other high-profile defendants.
According to Egorova, Chuvashov's murder investigation is currently in the hands of the federal Investigative Committee of the Prosecutor General, which has not yet come out with any information about the course of the investigation.