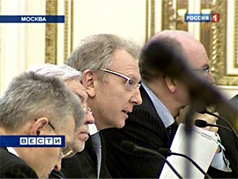 Moscow Deputy Mayor Alexander Ryabinin appears to have fled the country following accusations that he is guilty of taking bribes, Gazeta.ru reports.
Ryabinin had originally been accused of abuse of authority back in March, having allegedly forced real estate businesspeople contracted with the city government to give his daughter a free 200-plus square meter apartment in the center of the capital. However, Moscow Mayor Yury Luzhkov spoke out in his deputy's defense, and a week later the case was dropped.
The new bribery charges were revealed yesterday when Chairman Alexander Bastrykin of the Investigative Committee of the Prosecutor General's Office was quoted in Rossiyskaya Gazeta regarding the real estate scandal.
"It's difficult for me to assess the reasons and motives for the decision taken by the Moscow Prosecutor's Office to annul the decree to file a criminal case against Ryabinin," said Bastrykin.
He then added that, as a result of additional investigating, a criminal suit had been filed against Ryabinin for taking bribes. Given Ryabinin's status as a government official, the charge carries a sentence of between 5 and 10 years in prison.
However, Bastrykin went on, "at this time the suspect has already managed to successfully flee the territory of the country."
The Moscow mayor's office issued a denial that the deputy mayor had left Russia entirely, saying that he was simply on vacation. But on Tuesday, a source in the city administration told Gazeta.ru that Ryabinin was definitely abroad.
"There's a terrible panic in the mayor's office now," said the source. "Measures are being taken to return Ryabinin to Russia. As far as I know, Bastrykin was given the go-ahead from the top to make an open statement: Ryabinin is a person who is close to Luzhkov."
Russia has long suffered from widespread corruption and bribery in particular. A 2009 survey by Transparency International ranked Russia at 146 on the global Corruption Perceptions Index, noting that 29 percent of Russians had given a bribe at least once in the past year. The most recent comprehensive study on the topic, conducted in 2005, estimated that ordinary Russians exchanged more than $3 billion in bribes annually – a figure that doesn't include the $316 billion paid by businesses and entrepreneurs.