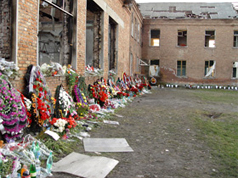 A memorial service for victims of the 2004 Beslan school hostage crisis is being held at the site of the school in the republic of North Ossetia.
Ella Kesaeva, leader of the victim advocacy movement Voice of Beslan, said that the memorial began Wednesday morning at 9:15 am – the moment when Chechen and Ingush militants seized the school, demanding an end to the Second Chechen War.
"There are a lot of people," said Kesaeva of the memorial. According to Interfax, about 3000 people came to honor the dead, including relatives of the children and teachers killed and the leadership of the republic, headed by President Taymuraz Mamsurov.
Portraits of the victims, including special forces operatives who were killed in the raid that ended the three-day siege, were hung on the walls of the school's sports arena. Many visitors laid flowers and lit candles in their memory.
The memorial is planned to last until September 3, when a delegation is expected to come from the European Parliament.
A statement published Wednesday from Voice of Beslan issued the latest of many demands for an objective investigation of how the Russian authorities dealt with the hostage crisis. On the third day of the siege, federal security forces controversially used tanks and flamethrowers to raid the school. In the end, at least 334 of the more than 1100 hostages died in the operation, among them 186 children. "We feel that the use of heavy machinery during the raid was a war crime," said Kesaeva.
The organization believes that the way in which the Russian authorities dealt with the siege violated the articles of the European Convention on Human Rights that guarantees the right to life and freedom from torture.
In an open letter to Russian President Dmitri Medvedev published on the organization's website on Wednesday, parents of children killed in the raid asked the head of state to remember "the wounds of the Beslan tragedy." For more than two years, they said, the president has ignored parents' requests to hold an objective investigation, forcing them to look to other avenues for help.
"For six years, the official agencies have demonstrated their unwillingness to hold an objective investigation," reads the letter, "so we are forced to appeal to competent international associations to carry out an objective investigation."
The Beslan hostage crisis became the basis for a variety of measures to consolidate power within the Russian federal government. Under President Vladimir Putin, law enforcement agencies were given a broader range of authority, and the direct election of the heads of federal regions was abolished; these leaders are now nominated by the president and voted on by local legislatures. Critics argue that the government took advantage of the tragedy to pull through these and other similar measures, which they say are detrimental for democracy in the country.