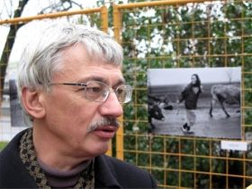 Correction 09/01/10: A reference to Mikhail Khodorkovsky as a primary backer of Gannushkina's organization was removed.
On Tuesday, Interfax reported that criminal charges of slander had been filed against the head of the Russian human rights organization Memorial, Oleg Orlov, by Chechen President Ramzan Kadyrov. The charges stem from comments by Orlov regarding connections between Kadyrov and last summer's high-profile murder of Memorial activist Natalya Estemirova.
The Chechen president, who has been denounced by rights organizations worldwide for his alleged personal involvement in individual cases of murder, torture, and other rights abuses, won an earlier civil case against Orlov in which the Memorial director was forced to pay a fine. Kadyrov then promised to stop suing human rights activists after he was criticized by his mother for disrespecting his elders. With Tuesday's announcement, that promise appears to have been broken. Radio Free Liberty/Radio Europe reports on the Russian federal government's misunderstanding of human rights organizations:
Well-known Russian rights activist Svetlana Gannushkina says the federal government is ignorant about the operations of human rights groups in the North Caucasus, RFE/RL's Russian Service reports.

Gannushkina, of the nongovernmental organization (NGO) Civic Assistance Committee, was reacting to reports that a Moscow court has charged Oleg Orlov, the head of the rights group Memorial, with defamation of Chechen President Ramzan Kadyrov.

She told RFE/RL that "the dangerous part of human rights work comes from the local governments, not outside organizations."

Russian Prime Minister Vladimir Putin said in a meeting human rights activists on July 6 that he believes people need to be able "to send the government a signal" about the problems in the North Caucasus, often by going through NGOs.

But Putin warned that some NGOs in the North Caucasus are "supported by outside funds," hinting that they are being financed by political organizations abroad.

Gannushkina said such an accusation is not new. She added that activists do not follow orders from anyone, though she admitted that most of the funding for NGOs comes from foreign and private companies.