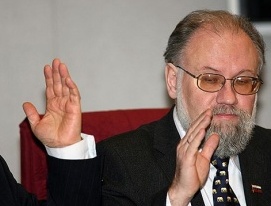 Vladimir Churov, the head of Russia's Central Electoral Commission (CEC) told journalists Tuesday that electoral monitors will oversee most of Russia's regions in the upcoming presidential election. As Itar-Tass reported, Churov was greeting newly arrived monitors from the Inter-Parliamentary Assembly of the Commonwealth of Independent States (CIS).
Churov noted that some 200 monitors would be present for the contest, which will be held this Sunday, March 2nd. Experts have noted that the number is far smaller than past elections, when a larger share of international bodies came to Russia.
This election year, a series of prominent watchdog groups have refused to observe the election. The first were two wings of the Organization for Security and Cooperation in Europe (OSCE), the Office for Democratic Institutions and Human Rights, and the Parliamentary Assembly. The two groups cited limits from authorities.
Next were the Northern Council, and nearly every individual country sending a delegation: the United Kingdom, France, Germany, Hungary, Spain, and the United States. Their given reason for declining Russia's invitation was simpler: busy domestic schedules. Some analysts feel their move showed solidarity with the more prominent monitoring bodies, without politicizing their refusal.
As result, Russia's elections will be observed by representatives of the CIS, a small group from the Council of Europe, China and Japan. These monitors are arriving less than a week before the contest.
Still, CIS observers pledged to watch the most densely populated parts of the country. Ural Mukhamedzhanov, the coordinator of the Inter-Parliamentary Assembly mission, promised to track Russia's compliance with international requirements. "Russian laws fully conform to international standards," he said.