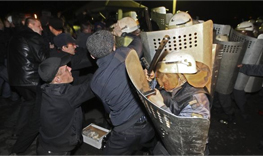 Two weekends ago, a pair of explosions in Russia's Raspadskaya coal mine left at least 66 people dead and lent a tragic overtone to the country's ongoing Victory Day celebrations. Miners, their families, and other supporters held two demonstrations last Friday in the Siberian town of Mezhdurechensk to protest the unsafe working conditions and low pay that they say make workers slaves to the mining companies that the regional economy depends on.
While the daytime protest outside of a cultural center proceeded largely without incident, the second rally in the evening was brutally dispersed by OMON riot police. In a move reminiscent of last summer's protests in the stricken industrial town of Pikalevo, relatives of deceased miners blocked off a railroad and demanded a meeting with the local mayor, the leadership of the Raspadskaya mine, and Prime Minister Vladimir Putin. In response, OMON officers violently broke up the rally, beating dozens of protesters and detaining 28 individuals.
While some reports say that protesters throwing rocks at police during the fight injured more than a dozen officers, all 28 detainees were released on Monday and Kemerovo Regional Police Chief Aleksandr Yelin said that the charges they might face are for having blocked transportation.
The opposition movement Solidarity has released a statement in response to the incident.
Statement in support of Kuznetsk Basin miners
May 16, 2010

The Solidarity movement is outraged by the cruel and cynical actions of the authorities who used OMON to beat and detain grieving and despairing miners and their relatives on the evening of May 14.

The Putin-Goebbels propaganda machine maintains that the spontaneous rally was organized by criminals, and that neither miners nor their relatives were noticed at the rally. This time, they won't get away with this brazen and impudent official propaganda lie. The entire country has seen the videos of the beatings.

We welcome the initiative by residents of the Kuznetsk Basin to organize protest rallies in defense of their legitimate demands, including the immediate release of all those arrested in Mezhdurechensk, increased wages in commercial mines in the region, and an end to the persecution of the activities of independent trade unions.

We also feel that it is necessary to prosecute the sadistic OMON who cruelly beat the demonstrators.

We are prepared to offer legal and informational support to the Union of Kuznetsk Basin Residents and are convinced that our combined actions will bring about a result.

Our contact information: solidarnost.info@gmail.com, tel. 625-48-14
Translation by theotherrussia.org.