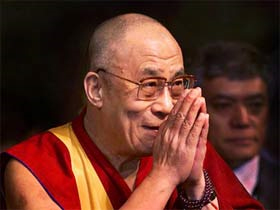 A few weeks back, Buddhist leaders in Russia's southern Republic of Kalmykia sent a letter to Foreign Minister Sergei Lavrov requesting a visa to allow the Dalai Lama to visit Russia. The last time the exiled Tibetan spiritual leader visited the country was on a controversial trip in 2004, when his visa was initially denied. Before that, the Dalai Lama hadn't been to Russia since the early 1990s. And it seems that he won't be coming back anytime soon: the Supreme Lama of Kalmykia, Telo Tulku Rinpoche, announced on Friday that the visa request had been denied.
According to Rinpoche, the official response from Moscow cited the 65th anniversary of the Allied victory in World War II as a complicating factor in their decision. "A visit by the Dalai Lama to Russia would be taken particularly painfully by Beijing during the current anniversary year of our shared victory with China in the Second World War," read the response.
Russia's concern over preserving positive relations with China, a major economic partner, was also the basis of the 2004 visa debacle. At the time, China, which sees the Dalai Lama as a dangerous separatist and routinely berates countries that allow him to visit, even issued a statement of approval of Russia's refusal to grant the Buddhist leader's visa. But following subsequent protests by Russian Buddhists, Moscow reversed its decision. This time around, said Rinpoche, "such a refusal is distressing, but we are not going to stop and will continue to work in this direction."
But any reference to the World War II anniversary, which Russians celebrate annually as Victory Day with more fervency than almost any other national holiday, means that the Foreign Ministry is unlikely to relent. In addition to that, Rinpoche said that Moscow's response cautioned that future discussions on a possible trip by the Dalai Lama to Russia would depend on "signs of an ease in tension in his relations with the official authorities of the PRC [People's Republic of China]." Judging by the extent to which China lambasted the United States for the Buddhist leader's February trip to meet with US President Barack Obama, no such ease is in sight.