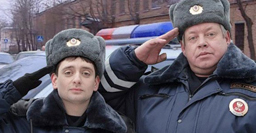 In a gesture that speaks volumes of the level of corruption plaguing the Russian police, the Internal Ministry in the Siberian Republic of Khakassia is awarding two traffic cops for turning down a bribe from an offending driver.
On March 29, officers Veniamin Sagalakov and Yevgeny Ivanov flagged down a truck carrying four tons of scrap metal, whose driver, as it turned out, lacked the proper documents for the cargo. "During the document check, the truck driver attempted to give the police officers a bribe in the amount of 1000 rubles (about $34), which the honest officers refused," says a press release on the local government's website on Friday.
As a reward for "resisting temptation," both officers were given 10 thousand rubles at a celebratory ceremony.
Despite being a ubiquitous stereotype of Russians, bribing is indeed an illegal offense in Russia punishable by as little as a small fine or as much as up to eight years in prison. The truck driver in question faces up to three years in prison.
According to the press release, the award was part of a regional initiative begun in 2008 to try and cut down on the amount of bribes accepted by traffic police. Upon reporting an attempted bribe to their superiors, officers in Khakassia are awarded an amount ten times what had been proposed to them. Fourteen such cases were recorded in 2009, with another seven recorded in the first three months of the current year. "In these cases, all conscientious officers were awarded," the press release says.
Fighting corruption has been one of President Dmitri Medvedev's primary stated policy objectives since taking office in 2008, but bribery is so entrenched in Russian society that his likelihood for success is questionable at best. At a hearing just last week, the German-based carmaker Daimler admitted to paying tens of millions of dollars in bribes to 22 foreign governments, including Russia, to obtain high-level contracts. The U.S. Department of Justice says that the Russian Interior Ministry, Defense Ministry, and regional government officials are guilty of accepting more than $7 million of these bribes.
Moreover, a report released last month from the Russian Interior Ministry's economic safety department says that the average cost of a bribe doubled in 2009 from the year before. While figures for early 2010 indicate that the costs may be beginning to decline, they have a very long way to fall – the most recent comprehensive study in 2005 estimated that ordinary Russians exchanged more than $3 billion in bribes annually, a figure that doesn't include the $316 billion paid by businesses and entrepreneurs. A 2009 study by Transparency International put Russia in 146th place worldwide on its global corruption index, only one rank higher than in 2008.