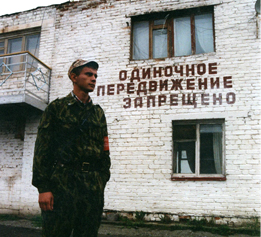 Efforts to reform Russia's notoriously draconian correctional facilities have so far garnered mixed results: while the number of prisoners overall is down, the high number of prisoner deaths remains extremely disturbing. In an interview published Tuesday with the Rossiyskaya Gazeta newspaper, Russian Deputy Prosecutor General Yevgeny Zabarchuk spoke about the gross violations revealed by recent federal reviews of the country's correctional facilities.
Russian prisons have a historically high rate of violence, in part resulting from the rare practice of housing convicts together without regard for the severity of their crimes. While the government has finally decided put that practice to an end, the deputy prosecutor general said that facility reviews ordered by President Dmitri Medvedev exposed a significant number of cases where prison guards have abused both their own authority and the rights of prisoners.
"In facilities in the Omskaya, Orenburgskaya, Sverdlovskaya, and Chelyabinskaya regions, as well as several others, personnel have been using physical force and tactical equipment in ways that are not always lawful or well-founded," said Zabarchuk.
When asked about conditions regarding prisoners' health, the deputy painted a grim picture of the situation: In 2009 alone, 4150 prisoners had died in Russian correctional facilities. "What's worrying is not only the high rate of disease, but the depressing death rate among convicts," he said. "This is a problem that I would particularly like to single out, since the basic prison contingent is not made up of very old men or young children, but able-bodied people who are, you could say, in the prime of their lives and strength. Nevertheless, many of them do not live out their sentences, or they leave disabled."
One reason for the mortality rate was the failure of correctional facilities to provide prisoners with proper medical care. And even when they do, said Zabarchuk, medical equipment is outdated and medical personnel often lack the proper education for their jobs.
However, said Zabarchuk, a series of recent prison reforms have succeeded in decreasing the number of prisoners overall. This was a key task for the penal system's management, as a sharp increase in female prisoners has recently contributed to the already overwhelming overcrowding of Russia's facilities. A recent decision by the Russian Supreme Court regarding procedures for bail, house arrest, parole, and other lighter forms of punishment has allowed more convicts to carry out their sentences outside of correctional facilities. As a result, the number of prisoners in Russia was 861,687 prisoners as of Spring 2010 – 29 thousand less than a year ago. Zabarchuk said that the decrease can be credited to the fact that, for the first time ever, the problem of abuse in Russian correctional facilities was being dealt with at the highest levels of government, with president Medvedev in particular pushing for reform.
Even so, the situation in Russia's prisons remains dire, and not all reforms necessarily have any chance of success. Zabarchuk blamed the Federal Penitentiary Service itself for "ineffectively exercising departmental control" over rampant corruption. "Therefore, the negative situation that has developed is not changing," he concluded.
Russian prisoners themselves have made a number of recent attempts to draw attention to the conditions of their treatment. In January 2010, prisoners in the southern Rostovskaya region announced an indefinite hunger strike in response to what they said were irresponsible medical personnel and other rights abuses. In November 2009, five prisoners in the Chelyabinskaya region wrote a letter to law enforcement agencies alleging continuous beatings and psychological abuse from prison guards, and also went on hunger strike.