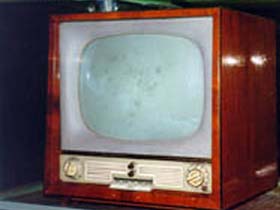 A monitoring investigation into political TV airtime has put the legitimacy of the whole Russian presidential election campaign into question. These are the conclusions reached by State Duma delegates from two of Russia's major political parties, the LDPR (Liberal Democratic Party of Russia) and the KPRF (Communist Party of the Russian Federation). As the All-Russia Civil Congress reported on its website on February 19th, the two parties based their challenge on the results of an independent media monitoring effort.
In total, 31 members of parliament have come together on the issue, sending a formal declaration to Russia's Central Electoral Commission (CEC). Two presidential candidates, Vladimir Zhirinovsky and Gennady Zyuganov, included their signatures on the document, which charges that federally-owned television channels have been dominated by coverage of a third candidate, Dmitri Medvedev. Medvedev, widely favored to win in March, carries the endorsement of President Vladimir Putin.
According to the statement, a single January 29th meeting of Dmitri Medvedev with the Association of Russian Jurists received 1038 seconds of television coverage. The same day, all reporting on Gennady Zyuganov totaled at 204 seconds. Zhirinovsky received 197 seconds of airtime, and Andrei Bogdanov, the final registered candidate, had just 95 seconds.
The report also considered the duration of direct quotes from the candidates. Medvedev's lecture at the Association of Russian Jurists was given 301 seconds, while all of Zyuganov's speeches for the day had 94 seconds of coverage. Zhirinovsky saw 98 seconds, and Bogdanov had 36 seconds for the day.
Based on these figures and other instances, the authors of the statement reach a conclusion:
"Violations of electoral law [and] disregard for the corresponding legal principles of the Council of Europe, reiterated time and time again by decisions of the European court, [are now] documented by monitoring of the informational-political TV airtime in the electoral campaign for President of the Russian Federation, [and] call into question the legitimacy of the presidential electoral campaign as a whole."
Vladimir Churov, the head of the CEC, has previously dismissed any such allegations, saying that the electoral campaigns of each of the presidential candidates are equally covered in the mass media. Dmitri Medvedev's appearance in the news is not connected with the electoral campaign, according to Churov, but with his work in the government and his position as First Deputy Prime-Minister.