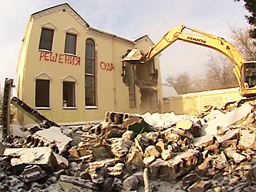 In the midst of an ongoing federal investigation to determine the fate of homes slated for demolition in the Moscow village of Rechnik, residents have announced that the documents that would save them have been stolen by government authorities.
Yury Kladov, a Rechnik resident and village representative, made the accusation at a press conference held on Friday by the federal land registration service, Rosreestr. He claimed that part of the documents needed to legally register the houses, thus theoretically annulling a court order to demolish them, were stolen by government authorities when the residents had filed them. Other necessary documents have been locked in state archives that residents have no access to, he said.
Kladov stressed that civil servants were free to access the documents.
Rosreestr deputy manager Galina Yelizarova rebutted by saying that none of the 80 rejected registrations filed by Rechnik residents in the past three years have been contested in court. Her colleague, Vadim Andropov, added that this was because the residents know they lack the necessary documents to register the homes – seeming to imply that such documents did not exist, as opposed to residents' claims that the documents are being withheld by the state.
Kladov countered that Rechnik residents lacked faith that the courts would be a viable avenue to obtain registration for their homes, and would do nothing more than postpone the inevitable demolitions.
Moscow city authorities began demolishing buildings in Rechnik on January 21, after a court order deemed the buildings to have been illegally built. Residents maintain that the village was supposed to have fallen under a "dacha amnesty" program that legalized all of the villages similar to theirs, and point to neighboring estates featuring luxury villas as evidence that the city just wants to drive them out to develop the land.
Two weeks later, Russian President Dmitri Medvedev ordered the Prosecutor General to investigate the legality of the buildings, and demolitions were temporarily suspended. By that time, however, several dozen had already been razed. Residents, meanwhile, have attempted to gain refugee status in Germany and the United States, and began claiming genocide after 12 elderly residents died from the stress of losing their homes.