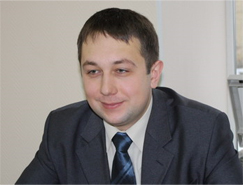 Prominent Russian lawyer and activist Evgeny Arkhipov is reportedly attempting to seek medical care abroad after being kicked out of a Moscow hospital, despite strong indications that he has been poisoned.
The Association of Russian Lawyers for Human Rights first announced Arkhipov's hospitalization on February 15. Although the lawyer fell ill on February 9, he initially expected the problems to pass. He was taken to the hospital, however, after his condition severely deteriorated on the night of February 14.
Doctors concluded on February 17 that Arkhipov's symptoms "indirectly" confirmed the presence of a toxin such as thallium, which is notorious for its use for murder.
Despite his diagnosis and despite his complaints of continuing pain, the on-duty doctor told Arkhipov at 10:30 pm that same night that he must leave the hospital, without any explanation as to why.
One of the medical personnel at the hospital, who wished to remain anonymous, told the Association of Russian Lawyers that someone from the hospital's management had called earlier in the day and ordered Arkhipov to be discharged within 24 hours, regardless of the condition of his health.
Specialists from the association believe that Arkhipov was intentionally poisoned as a result of his direct participation in preparing an anti-corruption report that was published on February 9. The report included information about controversial toll roads that, it claims, bring in more money annually than Russia's income from oil sales.
The association has issued an open call for any possible assistance that could help Arkhipov regain entry into a hospital or somehow otherwise receive proper medical care. Robert Amsterdam's website reported on Wednesday that the lawyer is also attempting to go abroad for treatment.
If Arkhipov has in fact been poisoned, it would not be the first attempt on his life. Unknown assailants attacked the lawyer in the Moscow metro on January 25, and an assassination attempt in June 2009 forced him to temporarily flee the country.
Additionally, the Moscow City Bar attempted to revoke Arkhipov's status as a lawyer last October, claiming that his role in civic activism was mutually exclusive with his duties as a lawyer. Arkhipov asserted that the attack was connected with his participation in a rally opposing toll roads and his membership in the Solidarity opposition movement. The bar later dropped the case.
The February 17 press release from the Association of Russian Lawyers for Human Rights, which includes a hotline for support for Arkhipov, can be seen in Russian by clicking here.