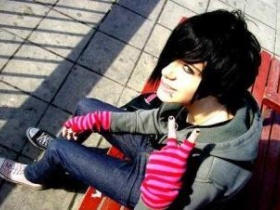 Nizhny-Novgorod, February 11th:
A subculture known for black fingernails, angled bangs and rock music, popular among some Russian teenagers, is under attack. On Monday, the Department of Education of the Nizhny-Novgorod oblast called for a campaign to combat a movement known as "emo". The classification, which originated from an independent music movement in the United States, is short for "emotional," and now relates as much to a fashion style as a genre of music.
The Department's move comes after the local branch of the Federal Security Service Directorate (UFSB) brought forth a report describing repeated instances of "unconventional religious trends, and civic organizations disseminating ideas of a negative youth subculture." The information first became public from a circular published by the Education Department.
The document, in part, reads: "According to information from the Nizhny-Novgorod oblast UFSB, the oblast is seeing the growth of ideas of the emo negative youth subculture, which are connected with suicidal tendencies of teenagers 12-16 years of age."
The text then vividly describes the emo stereotype: clothing with pink and black colors and two-toned designs. Blue-black hair. Long bangs. Fingernails painted black. Piercings.
The FSB informed the educators that "the emo ideology negatively influences the unformed teenage psyche. According to the ideology, its members are immortal, and each one's dream is to die of blood-loss in a warm bath, by cutting the veins on the wrist region. Many of the teenagers are depressed, withdrawn in their thoughts, and the girls are very inclined toward suicide on account of unrequited love. The young people drawn to the emo movement imagine that they have an 'allergy to happiness.'"
Based on the information taken from the FSB, the department called on its teachers to maintain vigilance and to take measures directed "at explaining the negative consequences of entering into alternative civic organizations."
Meanwhile, the emo subculture could not be reached for comment.