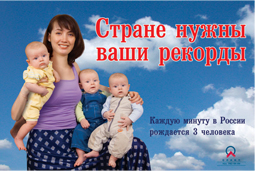 Custody officials in St. Petersburg have taken four children into custody from a woman in debt to the state housing authorities, Novye Izvestia newspaper reports.
St. Petersburg resident Vera Kamkina, who lost both her mother and husband last year, told the publication that "I don't drink, I don't smoke, and I'm not a drug addict. Of course, my family is extremely poor. I raised my children by myself and wasn't able to work. But I had help from relatives and charity."
The officials told the woman that her children would be returned after she repaid 140 thousand rubles (about $4,600) in debt to the housing authorities for rent on her apartment.
In an interview on Ekho Moskvy radio, children's rights representative Pavel Astakhov said that the authorities should take all aspects of a child's family life into consideration in such cases, and not only material issues.
An unnamed municipal custody official denied to Novye Izvestia that children were taken from their families "because of poverty," and that "the fairy tales about how their children were taken away are told by alcoholics who have enough money for the bottle but not for their their children."
An amendment currently under consideration in the Russian State Duma would raise the standard for parental responsibilities to children. If adopted, parents would be required to provide children with "material support, including providing nutrition, clothing, shoes, and housing," in addition to the appropriate care currently required by law.
Despite the clear importance for children to be properly provided for, Marina Ozhegova of the parental advocacy organization "Lots of Kids is Good!" fears that such an amendment will be harmful for both parents and children. "In Russia, 80 percent of families with multiple children live below the poverty line," she said. "Many have their gas and electricity turned off because of debts to the housing authorities."
Rosstat, Russia's federal statistics agency, estimates that 5,877 children were taken into custody as a result of unfulfilled parental obligations in 2008, compared with 2,557 children in 2000.