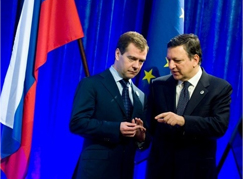 A new report out by the European Commission says that Russia must achieve a high level of political democratization if it wishes to modernize its economy, the Kommersant newspaper reports.
The commission's report is part of a program between Russia and the European Union dubbed Partnership for Modernization, and was prepared in response to an appeal from Russian President Dmitri Medvedev at the Russia-EU summit in Stockholm last November. At the time, European Commission President Jose Manuel Barroso personally stepped forward with a promise from the commission to aid Russia in its process of modernization.
The resulting report specifies that first and foremost, Russia must succeed in creating a state based on the rule of law. Without "the supremacy of law," it says, no modernization can hope to be achieved.
The report adds that the European Commission is prepared to help Russia in its ongoing battle against corruption, improvements to its climate for investment, the process of modernizing non-governmental organizations, and Russia's transition to European standards and technical regulations.
The document is currently in Moscow for review by the federal government, which so far has given it a mixed reaction. On the whole, the report is being called a positive "intellectual contribution" to the process of modernization. However, the Kremlin would prefer that their European partners focus more on the economic and technical aspects of modernization, and not so much on the topic of a state based on the rule of law.
"The program should have an application-oriented character, without broad discussions of the advantages of European values," says Vladimir Chizhov, Russia's permanent envoy to the European Commission.
Russia has designated the Ministry of Economic Development to handle its own side of preparations for the joint project. So far, the amount of money to be designated to the Partnership for Modernization and the deadlines for its planning and implementation have not been specified. Civil servants interviewed by Kommersant indicated that more will become clear after the next Russia-EU summit in May.