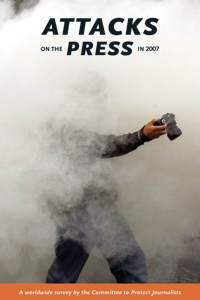 Russia is one of the most dangerous countries in the world for journalists, according to a report released this week. Titled "Attacks on the Press in 2007″, the publication comes from the Committee to Protect Journalists (CPJ), and cites Kremlin politics as the major reason for the worsening conditions.
As the report explains, freedom of the press has turned south under Putin, and has declined consistently since 1994. "Fourteen journalists have been slain in direct relation to their work during Putin's tenure, making Russia the world's third-deadliest nation for the press," the report states. This ranking also includes other factors affecting the media in the past five years, such as state control of all three national television channels.
Disturbing new methods, including anti-terrorist legislation have also made reporters in the country susceptible to pressure from above. The most notable are new laws against so-called "extremist" speech, which have been applied to an increasing number of independent outlets. "Criticizing public officials and covering dissenting views are now outside the limits of permissible journalism," the report reads. Other false legal attacks are also on the rise. "Provincial authorities used spurious charges such as infringing on copyright law and using counterfeit software to shutter independent and opposition outlets ahead of national elections."
The Committee's publication was presented on February 4th to the United Nations. According to their data, 65 journalists perished in the line of duty in 2007. The most dangerous country for the press was Iraq, where 170 journalists and mass-media employees were killed since March 2003.
Still, some human rights activists within Russia believe the report understates the problems in the country. CPJ metrics only include journalists whose death is directly connected with their professional duty, and do not count press assistants or support staff who have perished.
One group, the Glasnost Defense Foundation, writes that eight reporters perished in Russia in 2007, while CPJ counts one. "They mostly concentrate on whatever deaths foment scandals or whatever, while a great deal of journalists killed in the provinces are never even mentioned," the group's president, Aleksei Simonov, told Novye Izvestia. "Freedom of expression exists only in several newspapers, one radio broadcaster, and one program on the REN-TV channel," he added. "All others play one and the same tune."