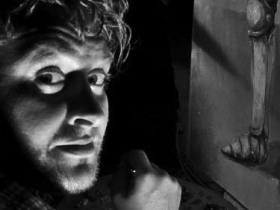 A Russian-born artist living in Israel was detained for holding a public exhibition of his paintings in central Moscow on Sunday, reports Kasparov.ru.
Igor Cherchenko, a member of Russia's banned National Bolshevik Party, was detained after opening an exhibition of his works on Moscow's Triumfalnaya Square entitled "My Northern Country."
About fifteen other activists stood with the Cherchenko while a detachment of police detained him and another National Bolshevik, Dmitri Yelizarov.
The artist's colleagues proceeded to move his paintings to the Sakharov Museum and Public Center, where a presentation of Cherchenko's works was to be held that same day.
Cherchenko is not the first artist arrested in Russia while attempting to display his work. Aleksander Shchendov was detained and threatened by police when he tried to display a collage of Prime Minister Vladimir Putin in a dress in Voronezh last June. Artem Loskutov, a leader of the underground art movement in Novosibirsk, was detained in May and charged with political extremism, as well as other charges he asserts are false.
Born in the Russian city of Vitebsk in 1973, Cherchenko has lived in Israel since 1990. He has frequently taken part in activist demonstrations with the aim of attracting attention toward political imprisonment. In December 2005, he chained himself to the gates of the Russian embassy in Tel Aviv to demand the release of political prisoners in Russia. The embassy later filed a complaint against the artist, accusing him of "the violation of state borders."