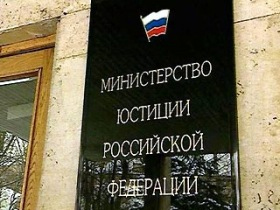 The Russian Ministry of Justice has introduced an amendment that would control which non-profit organizations would be allowed to use the word "Russia" in their titles, reported Nezavisimaya Gazeta on Friday.
The amendment would affect pending legislation that would govern state aid to NPOs, and would only allow the words "Russia" or "Russian Federation" to be used in the titles of those able to obtain the government's permission.
Political parties and social and religious organizations currently do not require state permission to use Russia in their titles.
According to the ministry, NPOs would be allowed to lay claim to such titles if their organization was of the significance, character, magnitude, and dealt with a range of activities that are deemed to be in the interest of Russian citizens and the state itself.
Supervisory authorities will also take into account NPOs' memberships to international institutions for their final decisions.
Organizers of the draft amendment say that if an NGO is found to provide services unique to Russia, then it will earn the right to be named "Russian."
Experts believe that such an approach will give authorities free reign to impose limits on NGOs that they deem to be undesirable.
Lev Ponomarev, executive director of the Russian organization For Human Rights, said that it was obvious that opposition NPOs would not be allowed to use "Russia" in their titles. "It will be an absolutely arbitrary approach if the Ministry of Justice becomes based on such criteria," he said in a statement to Nezavisimaya Gazeta. Ponomarev noted that there was a visible tendency in Russia to toughen the legislation regulating citizen society.
The Russian State Duma recently approved President Dmitri Medvedev's proposal to weaken state supervision and decrease the number of administrative checks for NPOs. The proposal called for the state to provide financial, informational, and consultation aid to socially-oriented NPOs, as well as provisions for tax breaks and government contracts. Legislators will take the draft under consideration in January.
The non-profit organizations in question that would receive such aid work throughout Russia to provide charity, protection for the environment, social support for the poor, pro-bono legal aid, educational, cultural, health-related, and scientific development, and services for the ill, elderly, disabled, and orphaned children.