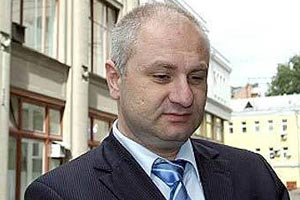 The murderer of Ingush opposition leader Magomed Yevloyev has been sentenced to two years in a penal colony, reports Gazeta.ru.
Ibragim Yevloyev, of no relation to his victim, was sentenced on Friday in the Karabulak City Court in Ingushetia. He was not present for the decision. The court ruled that the murder was accidental and had occurred due to the officer's "carelessness."
Relatives of Magomed say that they are contesting the court's decision, but his father, Yakhya Yevloyev, said that "I know that it won't change anything radically." He explained the light sentence as the result of pressure on the judge from former Internal Minister Musa Medov, the uncle of the accused officer.
"Judge Tumgoyev admitted to me that Medov called and asked him not to punish his nephew," Yakhya told journalists.
Magomed Yevloyev was murdered on August 31, 2008, not long after arriving at the Magas Airport in Ingushetia from Moscow. By accidental coincidence, he had wound up on the same plane as Murat Zyazikov, the profoundly corrupt ex-president of Ingushetia who was fired by the Kremlin two months after the killing. A quarrel allegedly broke out on the plane, and upon arrival Yevloyev was detained and dragged into a car, a scene witnessed by Magomed's friends and relatives who had come to greet him at the airport. His personal guards attempted to chase the motorcade, but Magomed had already been shot in the temple inside the police vehicle.
The person who shot Magomed Yevloyev turned out to be Ibragim Yevloyev, Medov's nephew and chief of security. According to police, Magomed had been detained in order to be brought in for questioning related to a case in which he was a witness. They say a fight broke out in the vehicle when Magomed tried to resist, and that Ibragim accidentally shot him when Magomed attempted to take the officer's weapon.
The investigator who signed the order to bring Magomed in for questioning says that he only did so under the orders of his superiors, and not until after Magomed had already died.
Friends and relatives of Magomed, as well as human rights groups, insist that the case had been a sham from the beginning, since the murder was intentional and had been ordered by Zyazikov. The family's lawyer, Musa Pliyev, is attempting to initiate proceedings in the European Court of Human Rights in Strasbourg. In light of a chain of murders of oppositionists in Ingushetia that followed Yevloyev's killing, Pliyev says he is convinced that authorities had issued "a license to shoot down other human rights advocates."
Pliyev has asked Strasbourg to make the case a priority, so that relevant documents might be presented before authorities have a chance to destroy them. While he is also contesting Friday's decision in the court in Karabulak, the lawyer expressed certainty that it would not be successful.
Another lawyer and anonymous source told Gazeta.ru that any reliance on the Russian court system would be futile. "I said from the very beginning that there was no point in waiting for the court's decision on this case. The case has not been uncovered, and the investigation did not answer the main questions – who ordered the murder, what was the motive, and so on."
The lawyer added that the responsibility for these failings lay with the government's investigative agencies. "Of course, now we can disparage the court," he said, "but I wouldn't want to blame the court. While the courts in our country are dependent on the government authorities, this is what their decisions are going to be."