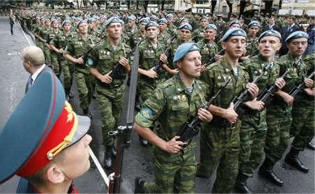 The upper house of Russia's parliament is set to give President Dmitri Medvedev increased personal authority over the use of armed forces abroad, reported Interfax on Wednesday.
The president had asked the parliamentary Federation Council the day before for an expansion of his authority to deploy troops on foreign soil.
An amendment to a piece of defense legislation that the president signed in November required a special decree from the Federation Council for foreign deployment of troops. Until that point, the legislation only allowed troops to be used abroad as part of the war against international terrorism or in accordance with international agreements.
The Federation Council's announcement on Wednesday would allow the president himself to make a decision on the use of troops abroad to deflect or prevent aggression from another country, to defend Russian citizens abroad, or to fight pirates.
The initial motivation to amend the defense legislation was the military conflict between Russia and Georgia in August 2008. At the time, Russia had explained its controversial participation in the war as the defense of its citizens residing in the breakaway region of South Ossetia. Both Russia and Georgia blamed each other for instigating the war, while a recent report from the European Union blames both countries in gross violations of international law.