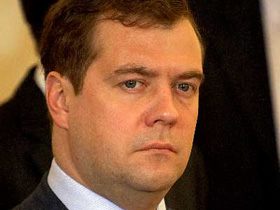 Russia's Central Electoral Commission (CEC) has challenged the income declarations of three Russian presidential candidates, Interfax reports. Contenders are required to turn in a list of incomes and assets to the Commission, which then makes the information public. The CEC oversees elections, and is responsible for registering candidates.
According to the electoral body, only Dmitri Medvedev, the chosen successor of President Vladimir Putin, was accurate in his filings. Vladimir Zhirinovsky, the leader of the Liberal Democratic Party, allegedly withheld 12 million 638 thousand rubles (€349,414 or $516, 083) worth of investments, and a 25 thousand ruble salary from the Moscow State Open University. According to tax records, the candidate also owns a 574 square meter plot of land in the Saratov oblast.
Communist leader Gennady Zyuganov allegedly left of the value of presents received from the "Patrons of Art of Century" International Welfare Fund. The total value is estimated at 17,084 rubles (€472 or $697).
Andrei Bogdanov, of the Democratic Party failed to declare the Moscow apartment of his wife, Irina. The CEC notes that the couple has joint ownership of the 64.3 square meter flat.
The fourth and final candidate, Dmitri Medvedev, apparently filed everything correctly. Political experts had earlier scoffed at his paperwork, which states that the First Deputy Prime Minister earns just $71,000 per year. The candidate holds a second job as chairman of Gazprom, Russia's natural gas monopoly, from which no income was declared. The company earned $13 billion in profits for 2006. According to the records, Medvedev also doesn't own a car, and shares his wife's 9-year-old Volkswagen Golf.
The Commission reiterated that it will not revoke the registrations of any of the candidates. However, the information will be published in the agency's informational posters, and may be publicly embarrassing.
One candidate, Zyuganov, has questioned the allegations. "I am astonished at such a remark, because I didn't receive any presents from the "Patrons of Art of Century" International Welfare Fund," he told Interfax. "This fund bestowed me with its award for helping orphanages, and I was given a folder and booklet about the fund's activities. That's all that I can say."