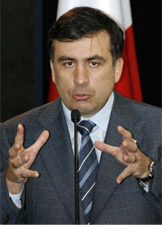 Georgian President Mikheil Saakashvili has stated that two Russian academics banned from entering Georgia on Tuesday were spies who support the Russian occupation of Georgian territory, said Manana Mandzhgaladze, Saakashvili's press secretary, according to Gazeta.ru.
In a statement on Wednesday, Mandzhgaladze qualified her statement by saying that only two categories of people are not allowed in Georgia: "occupying powers and spies sent by the Russian security services."
Russian State Archive Director Sergei Mironenko and senior researcher at the Center of Caucasus Studies at the Moscow State Institute of Foreign Affairs Nikolai Silayev were denied entry into Georgia upon arriving at Tbilisi International Airport on Tuesday.
The two researchers, together with four others, had planned to attend a conference on Georgian-Russian relations from December 1 – 3.
The four other researchers in the delegation left in protest at the decision, and all six returned together to Moscow.
Mandzhgaladze asserted that the two researchers work for the Russian security services.
She added that Georgia "is open for Russian tourists, businessmen, people of the arts, sportsmen or ordinary citizens."
According to the Moscow Times, the Georgian Institute of Russian Studies invited the Russian delegation, and the researchers had been warned that they might encounter some problems entering the country.
Both banned researchers, however, expressed shock at the decision, and Silayev said that he had recently been able to visit Georgia.
Relations between Russia and Georgia broke down in August 2008 during a military conflict between the two countries over the breakaway republic of South Ossetia. Russia has since recognized the independence of South Ossetia and Abkhazia, another breakaway republic. Russia and Georgia both blame each other for instigating the war.