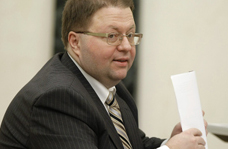 Judges in Russia are requesting the right to initiate criminal proceedings against those attempting to pressure them and impede the due process of law, RIA Novosti reports.
Supreme Court of Arbitration representative Anton Ivanov said that the law would require investigative agencies to respond to accusations of pressure on judges, an urgent problem faced by the Russian judicial system.
Ivanov noted that regardless of judges' appeals to law enforcement agencies with complaints of outside pressure, nothing has been made clear about criminal proceedings should have been be initiated in result.
As a countermeasure against such interference, Ivanov proposed that judges keep a log of all non-procedural appeals to them in regard to pending court cases.
Evgeny Arkhipov of the Russian lawyers association For Human Rights told Kasparov.ru that, in his opinion, "this initiative comes not from the Supreme Court of Arbitration, but from structures within the Kremlin."
"It is an attempt," he said, "to pressure social organizations and independent media, which will be blamed for pressure" on the judges.
If the proposal is made in to law, Arkhipov said, it would allow judges to conduct high-profile proceedings without the participation of the public or media, bringing about massive judicial violations.
Arkhipov, a member of the Solidarity opposition movement, was himself threatened with dismissal in November on the basis of his public activism. The charges were later dropped.
Ivanov's announcement is reminiscent of the case of a Russian judge dismissed in 2004. Olga Kudeshkina was stripped of her status as a judge after accusing government officials of pressuring her, and for saying that the Moscow City Duma had devolved into a place for "the settling of political, commercial, and other scores." After being fired, the former judge appealed to the European Court of Human Rights in Strasbourg, which ordered Russia to pay her 10,000 euro in moral damages.