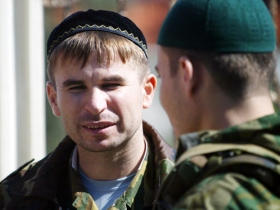 The brother of a murdered Chechen rebel has appealed to Russian President Dmitri Medvedev for help and protection in an open letter published by the Moskovsky Komsomolets newspaper, reports Gazeta.ru on November 19.
According to the report, Isa Yamadayev says in the letter that his life is in danger, and he asks for personal support from the president. "One after another my brothers are killed. In 2003 militants killed Yamadayev Dzhabrail. In 2008 in Moscow they killed Ruslan Yamadayev; in the United Arab Emirates my brother Sulim Yamadayev was shot. Now the hunt is open for me," he says.
Yamadayev refers in the letter to common speculation in the press that the Kremlin has given carte blanche to Chechen President Ramzan Kadyrov, and therefore closes its eyes to the murders of political opponents in the region.
"Is it really so that now, without analysis, all opponents of Kadyrov are declared enemies of Russia and can be killed? Human rights advocate Natalya Estemirova of Memorial, killed in 2009, Movladi Atlangeriyev, kidnapped in Moscow in 2007, and then killed in Chechnya, the president of Konvers-Group Aleksandr Antonov and his anonymous guard, killed in Moscow in 2009. They are what, also enemies of Russia?" the letter asks.
Yamadayev says that he sees only one answer to this question: That President Medvedev is not informed of the true state of affairs concerning the investigation of these crimes.
At the end of his letter, Yamadayev expresses certainty that he will also be killed, and asks Medvedev "to stop this mad conveyer of death."
The Yamadayev brothers were former allies of the Kadyrov family in Chechnya, but their relationship took a turn for the worse after the death of former President Akhmad Kadyrov in 2004. Relations between the clans spoiled altogether after a crash between the Kadyrov motorcade and a convoy driven by Badrudi Yamadayev.
Several months after the crash, Ruslan Yamadayev was shot and killed in Moscow. In March 2009, unknown persons shot Sulim Yamadayev; one of the suspects had close ties to President Ramzan Kadyrov. The Times newspaper in London cites Sulim's killing as the sixth violent murder of Kadyrov opponent in a row. Isa Yamadayev had stated in May that he believed his life to be in danger.
The Kremlin-backed Kadyrov regime in Chechnya has recently come under fire for murdering members of opposition forces, a charge that both the Kadyrovs and the Kremlin deny. Nevertheless, the murdered Yamadayev brothers are among a number of other recently targeted opponents. Former Kadyrov bodyguard Umar Israilov was assassinated in Vienna after becoming a critic of the regime. Zelimkhan Yandarbiyev, the president of a breakaway Chechen republic, was killed in exile by Russian military intelligence in 2004.