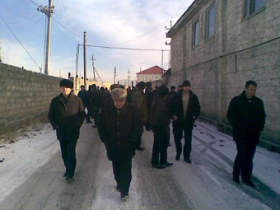 Nazran, Russia. January 26, 2008:
A demonstration against corruption and human rights abuses has been violently shut down by OMON Special Forces in Nazran. Police blocked passage for demonstrators in the capital of the Republic of Ingushetia, firing shots over the crowd and moving forward with clubs. A small group of protesters responded with violence, attacking police with stones and Molotov cocktails. Two buildings have burned and at least one person has been injured.
Earlier in the day, between 300 and 1000 people attempted to assemble in a central square of the capital. They were complaining about regional government policies, unorthodox crackdowns by security services in the region, and recent State Duma elections, which are widely believed to have been rigged. Many participants carried signs calling for the resignation of Ingush president Murat Zyazikov, a close ally of President Vladimir Putin. The rally was originally sanctioned by authorities, but was forbidden in line with a regional state of emergency instituted on January 25th.
As picketers neared the square, heavily armed OMON agents blocked surrounding streets. According to eye-witnesses, several youths tried to break through police lines, and officers responded with force, beating demonstrators with batons and firing warning shots, before chasing the crowd. Demonstrators responded by throwing stones and flaming Molotov cocktails at the officers.
At least one individual has suffered a gunshot wound, and over 100 people, many of them teenagers, have been arrested or detained. A hotel and the offices of a local State-run newspaper have been damaged by fire. Journalists covering the demonstration, including correspondents from Ekho Moskvy (Echo of Moscow) radio, Novaya Gazeta, Radio Liberty, and other mass-media were also apprehended by police. Citing safety concerns, authorities have transported them to North Ossetia, a neighboring region. Police casualties are unknown.
Ingushetia, which is located in the North Caucasus and borders Chechnya, has seen a rising tide of violence and terrorism activity, which has been met with a firm fist from authorities. A low-level insurgency has especially targeted law enforcement officials in the primarily Muslim Republic, and regional command has responded by tripling police presence. On January 25th, the area was deemed a "zone of anti-terrorist operation," an emergency ruling which grants the security services greater powers. Restrictions on citizens, such as searches, will be introduced shortly.
Before the protest began, the whole branch of Ingushetia's OMON Special Forces refused orders to disperse the meeting. The administration then requested outside help, and officers from neighboring regions were moved into Nazran.
Authorities have decided to take a firm stance against demonstrators. Musa Medov, the regional Interior Minister, explained their plan to the Associated Press:
"Everyone even indirectly involved in organizing this protest will be severely punished."