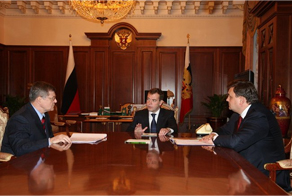 In a meeting with Russian President Dmitri Medvedev on Tuesday, Prosecutor General Yury Chaika announced that an audit of state corporations ordered by the president in August revealed gross misappropriation of state funds and other violations. As a result, 22 criminal cases had been initiated, some involving "abuse of authority and deliberate bankruptcy."
According to Chaika, all seven of Russia's state-owned corporations were found to "fail to comply with their statutory functions" or to "engage in activities not envisaged" in their founding.
Particularly problematic was the Russian Corporation of Nanotechnologies (Rusnano), which spent only ten of the 130 billion rubles allocated to the company in November 2007. Most of the funds had instead "been placed in bank accounts as idle money."
Konstantin Chuychenko, head of the Presidential Control Directorate, said in the same meeting that the government should be required to submit proposals that would consider privatizing the corporations. "Where there is no competition," he said, "the Cabinet should set a lifetime for the corporations…determined by the particular purpose of each."
Chuychenko went on to say that the government should appoint state representatives to the supervisory boards of these corporations because of a current lack of transparency. He also proposed making them accountable to the Audit Chamber and other supervisory bodies by March 2010.
President Medvedev's call for an audit in August was preceded by widespread criticism of state corporations earlier this past summer. A leaked report by the Federal Anti-Monopoly Service called state corporations a main threat to economic competition, and representatives of the Audit Chamber and Anti-Monopoly service were among politicians calling for their elimination altogether.
Government control over Russian business increased dramatically under the presidency of Vladimir Putin. The current seven state corporations – the bank Vnesheconombank, the industrial firm Rostekhnologii, the Deposit Insurance Agency, Rosatom State Nuclear Energy Corporation, the Sochi 2014 Olympic management firm Olympstroy, the Housing and Utilities Reform Fund, and the Rusnano nanotechnology firm – were created to perform specific state functions, and a separate set of regulations allows them to function under significantly less transparency and supervision than their public counterparts. As a result, they have been repeatedly criticized as prone to corruption and harmful to competition.