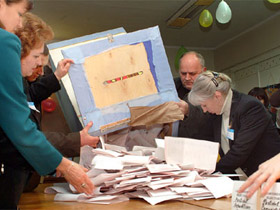 On January 16th, Russia's Central Electoral Commission (CEC) started distributing absentee ballots for the March 2nd presidential election. At a Moscow press-conference on Friday, the Commission revealed a new design and commented on the voting slips.
The ballots will be distributed by regional and local branches of the Commission until March 1st. According to a representative, the CEC has prepared 2.6 million absentee ballots for the election, or 100 thousand more than during the 2004 presidential contest.
The slips feature new security measures, such as space for a voter's passport information, and an area to write in the specific polling station where the voter is registered.
But some activists and political experts charge that the absentee ballots are still easily abused. During the December 2nd, 2007 State Duma elections, record numbers of complaints were registered from voters pressured to use the ballots. Managers at numerous companies were reportedly forcing workers to register as an absentee, and later vote under their scrutiny at the workplace. Students accused instructors of doing the same.
Incidences where management attempted to threaten employees by taking pictures of their voting ticket were also repeatedly put on record.
On November 30th, an investigation completed by the Other Russia revealed one scheme that would have helped the "party of power". In Moscow, voters were given the chance to vote several times at any number of polling stations, as long as they announced their support for the pro-Kremlin United Russia party and signed a corresponding statement. Absentee ballots were not required or collected.
Experts have marked widespread violations during the State Duma electoral campaign and early voting period, and suspect that the United Russia party attempted to falsify the results in its favor.