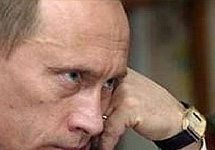 Russian Prime Minister Vladimir Putin announced Friday that the State should play a greater role in determining housing prices. As the Reuters news agency reports, Putin remarked that economy class home prices should not exceed 30 thousand rubles (around $950 or €660) per square meter. The Premier also called for the government to take a greater role in home construction.
"The state is now the main player on the housing market, that means the state can more actively influence price, supply structure, stimulate such segments as economy class housing and individual homes," he said.
After years of exponential growth, Russian real estate prices began to decrease last fall. According to data from the IRN analytical agency, secondary home prices in Russia's regions fell on average by 5 percent, while newly constructed house prices fell by 4 percent.
Per meter prices, however, remained well above the threshold described by Putin. By the end of March, the weighted average for economy-class home prices around Russia was 40 thousand rubles on the primary market and 45 thousand rubles on the secondary market. The net cost of constructing new housing was 35 thousand rubles, according to IRN.
Moscow remains the most expensive city for housing in Russia. Despite sharply falling prices, average apartment prices in bearing-wall and pre-engineered buildings the capital were $3692 per square meter, or around 117 thousand rubles. Monolithic and brick buildings, meanwhile, fetched an average $4295 or 136 thousand rubles per square meter.
The Russian government has taken steps to put controls on the domestic economy, from creating massive state corporations to lashing out at companies it thinks are improperly setting prices, to limiting imports on foreign autos. Putin's new appeal may be the latest step by the state to take charge of how the economy is run.