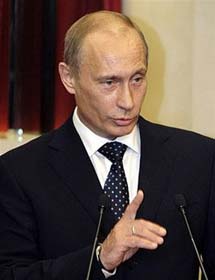 On August 9, 1999, then Russian President Boris Yeltsin appointed a relatively unknown Vladimir Putin to serve as his Prime Minister.  Ten years on, Putin has served two presidential terms, and has sculpted the new Russian political environment and economy.
Yet how much did Putin actually achieve, and at what cost?  Writing for the Moscow Times newspaper, political analyst Yevgeny Kiselyov argues that Putin's legacy is far from positive.

—
But behind that glamorous television image, high popularity ratings and personality cult stands a deplorable track record. During Putin's years in power, the country lost a complete decade. Russia missed a golden opportunity to use an extended period of high oil prices to modernize the country both politically and economically. Now as we near the end of the first decade of the 21st century, Russia remains mired in the past century. The country's economy, including its federal budget, continues to be over-dependent on revenue from oil and other raw materials exports. Eighteen years after the collapse of the Soviet Union, it still lacks a modern communications infrastructure. In addition, there is an appalling shortage of high-quality roads ­ including the so-called highway between Moscow and St. Petersburg ­ as well as modern train stations and airports.

In reality, the Russian economy began to grow rapidly before Putin's rise, when the price of oil was about $15 per barrel. This growth started in earnest in 1999, after the ruble was devaluated following the 1998 default. But in the thick of Putin's presidency, when oil prices approached $100 per barrel, exceeding even the boldest forecasts, the rate of economic growth year on year actually began to slow. Meanwhile, economic growth in similarly oil-rich Azerbaijan and Kazakhstan during the same period was two to three times higher.

Putin dedicated practically all of his early years as president to the war in Chechnya, the struggle with a few obstreperous and overly ambitious oligarchs, construction of his power vertical, the placement of loyal insiders in key government posts and instituting governmental control over the country's largest media outlets.

Economic reforms that included the creation of the stabilization fund, the adoption of a new Land Code and new labor laws as well as the reform of natural monopolies were all begun under now-disgraced former Prime Minister Mikhail Kasyanov. After his ouster, the reforms ground to a halt and a new course was set toward building Putin's state capitalism.