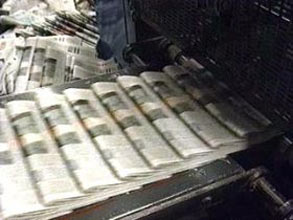 2007 was one of the worst years for journalists in post-Soviet Russia, according to a report released by the Glasnost Defense Foundation (GDF). As Interfax reported on January 13th, the Foundation recognized 1,502 conflicts and accidents faced by journalists for the year, down from 1,540 in 2002, the highest year recorded, but up from 1,322 in 2005 and 1,345 in 2006.
The GDF, which was founded in 1991 to provide legal support and advocacy for Russian mass-media, highlighted certain numbers that are particularly grim. According to the Foundation's research, 2007 saw 75 attacks on journalists, 11 attacks on editorial offices, and 33 cases of censorship. Eight journalists lost their lives, bringing the total count of dead journalists to 110 since the year 2000.
Forty-six reporters faced legal prosecution, for a total of 220 lawsuits against the mass-media. Over 5.5 million rubles (€152,996 or $225,027) were collected for moral damages as results of the trials.
One of the most alarming figures is the number of print runs confiscated by authorities. In 2007, the GDF registered 92 such instances, more than three times higher than any other year since 2000.
Overall, the Foundation believes that the situation is already difficult, and is continuing in the wrong direction. Aleksey Simonov, the GDF president summed up the annual report:
"Freedom is decreasing proportionally to a decrease in desire for it. And unfortunately, the number of those who want to have freedom of speech in our country is decreasing more and more."