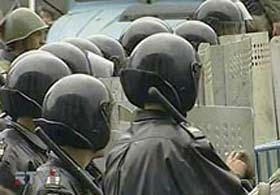 In an effort to stave off public protest associated with the worsening economic situation in Russia, police are creating special regional task forces to keep track of public attitudes.  Rashid Nurgaliev, the country's Minister of Internal Affairs, announced the plan on Tuesday, the Interfax news agency reports.  In Nurgaliev's opinion, the effort will allow the militsiya and authorities to work pre-emptively and prevent an escalation of protests during the economic crisis.
In Nurgaliev's words, incoming evidence about growing social tension will be analyzed.  If economic factors are responsible for the increase, police will inform local officials and the Government.
"If the solution to the problem lies within the jurisdiction of regional leaders, we will make them aware," Nurgaliev said.
Preventative methods will be taken together with the relevant ministers and local agencies.  In such a way, police hope to keep rising levels of unrest under control, Nurgaliev said.
Russia's Ministry of Internal Affairs, which was in the midsts of reducing its number of troop subdivisions, scrapped the plan in February.  Gennady Gudkov, a deputy in Russia's State Duma and the deputy chairman of the Duma Security Committee, said police were preparing for a wave of social protest in line with rising levels of unemployment.
In a related story, police in the Moscow suburbs were forming an elite brigade named "Avant-garde," which will specialize in maintaining public order during large-scale demonstrations.  The force is prepared to deploy across the country on short notice.