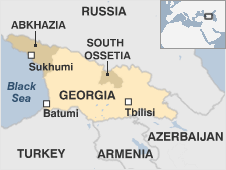 Russian President Dmitri Medvedev arrived in South Ossetia Friday for a working visit, the Itar-Tass news agency reports.  Medvedev's appearance in the breakaway Georgian region sparked anger in Tbilisi, even as Medvedev reiterated Russia's commitment to South Ossetian independence from Georgia.
"I want to express my gratitude for inviting me to visit this new country, this new state, South Ossetia, which appeared as a result of difficult, dramatic events and which the Russian people have certainly supported," Medvedev said at a meeting with South Ossetian separatist leader Eduard Kokoity.  "I think that this first short visit by a Russian president will create a foundation for such contacts, for friendly relations."
Russia is one of only two countries to recognize the region as an independent country after an armed conflict there escalated to full-blown war between Russia and Georgia in August 2008.  Georgia still considers the region, along with nearby Abkhazia, as its sovereign territory.
Medvedev also announced that Russia was planning to cooperate with South Ossetia on defense matters.  Russia has poured generous resources into the largely impoverished region, and plans to open a military base in the area.  The Russian president went on to pledge support for a number of projects to revive the local economy.
Kokoity, in response, thanked Medvedev for recognizing and supporting South Ossetia.
Georgian President Mikheil Saakashvili, meanwhile, called the visit "the most immoral and shameful precedent in centuries."
—