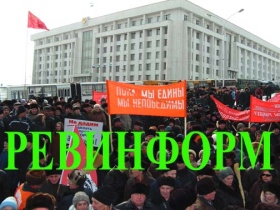 Residents of Bashkortostan, a central-southern Russian region, found their access to the popular LiveJournal blogging website blocked Tuesday, after a court ordered an opposition blog to stop publishing.
As the Kasparov.ru online newspaper reports, internet providers in the region were ordered to limit user access to the IP address used by the "Revinform" online news agency.  When two providers complied, some 63% of the republic's residents lost access to all blogging content on LiveJournal.  Authorities were apparently unaware that the shut-down, which affected thousands of bloggers, would be so wide-reaching.
The order to close the news blog came after a court in the capital of Ufa deemed the site to be extremist.  The case was launched against the blog after it reprinted articles from the Maydan newspaper documenting corruption among regional officials.
The online newspaper's editorial office said it considers the court decision unlawful and politically motivated, and has since released a mirror website for its content.
Revinform publishes both original news content and reprinted material dedicated to local news in Bashkortostan.  The site is run by the "Revinform" News Agency, which describes itself as "news from Bashkiria without censorship."  According to an unnamed source, the news agency is controlled by two of Bashkortostan's opposition leaders, Ramil Bignov and Robert Zagreyev.
Bashkortostan has a history of blocking internet access to opposition websites, and a similar court order was used against the Ufa Gubernskaya (Ufa Gub) opposition portal in March of this year.  At the request of prosecutors, all 11 of the region's internet providers cut access to both Ufa Gubernskaya and a number of other independent news sites identified by officials as "extremist."