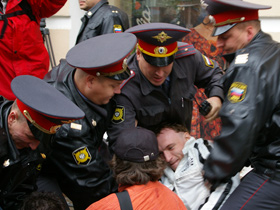 RIA Novosti reported on December 24th that a new book, titled "On Human Rights for the Militsiya Officer" has been printed in Moscow.
The book's author, human rights activist Andrei Babushkin, explained that the publication discusses the legal responsibilities of militsiya officers when they are detaining suspects. Four thousand copies have been made in the first print run.
"In the book, an emphasis is made that before a court decision, every person has the presumption of innocence and all their civil liberties and legal rights," Babushkin said. The human rights advocate added that the decision on whether to disseminate his brochure among officers was in the hands of the Russian Ministry of Internal Affairs.
"We are constantly in close contact, and are working with the law enforcement agencies. Human rights activists in the capital regularly lead raids together with the militsiya in order to expose violations on the part of law enforcement officials," the author added.
Earlier, the Committee for Civil Rights, led by Andrei Babushkin, took on the defense of the rights of militsiya officers. "Through our efforts, we lifted a prohibition against a personal lunchroom for members of the militsiya, and the air conditioners were repaired," he noted. Participants in the "Experience of the collaboration between human rights organizations and police agencies of Moscow and the Moscow Oblast," noted that thanks to the productive work of human rights advocates, the level of public trust in the militsiya has noticeably increased.