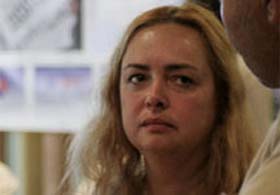 Olga Kurnosova, the leader of the St. Petersburg branch of Garry Kasparov's United Civil Front party, has been charged for a second time on allegations of smuggling.
As Kurnosova told the Kasparov.ru online newspaper, the charges stem from an incident on October 5, 2008, when the opposition activist was returning by train from Astrakhan to St. Petersburg.  Kurnosova, who was on her way home from a regional conference for the political opposition, was apprehended and searched on the train.  Police found a can of black caviar in her bags, and decided on the spot that the caviar had been poached illegally, and was therefore contraband.  Kurnosova had received the can as a gift from members of the United Civil Front in Astrakhan.  The activist was then held in a temporary detention facility for nearly two days, before being released on a promise not to leave town.
Since that time, Kurnosova has been called back to Astrakhan several times for questioning.  The activist, who is also a member of the political advisory council of the Solidarity opposition movement, was first charged with smuggling in April, although prosecutors did not launch a case at that time.  On May 16, an investigator from Astrakhan came to St. Petersburg to officially accuse Kurnosova a second time and move forward with taking the case to court.
Kurnosova believes the charges are a politically motivated scare tactic, and should not hold up in court.  The opposition leader believes prosecutors may try to give her a suspended sentence, which could be converted into a real one at some point in the future.
If convicted, Kurnosova would face up to two years in prison.